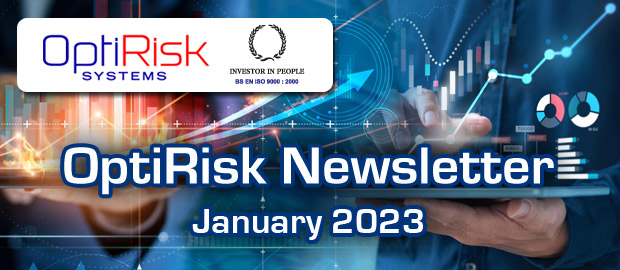 AML Optimization Products
AMPL's products and services - AMPLDev, AMPL IDE, and AMPL API, licenses continue to be sold to academic institutions, individual researchers and large organizations. AMPL supports not only linear programming and integer programming, but also stochastic programming (SP). Soon OptiRisk's optimization under uncertainty course - 'Optimum Decision Making and Risk Analysis Applied to Finance' will be offered as a modular and online instructor-led training.
For more information contact us at info@optirisk-systems.com
Systematic Daily Trading
We have developed two Four Assets Strategies for the Singapore and US Exchanges.
SGX-COMEX-CME/CBOE: [NIFTY50, VIX, GOLD, CASH]
NYSE-COMEX-CME/CBOE: [SP500, VIX,GOLD, CASH]
Trading strategies in these two venues are executed through our trading partner Interactive Broker (IBKR).
Retail Trading:
Virtual: We offer virtual trading of three asset strategy [NIFTY50, GOLD, CASH] on retail trading platform of Tradetron. We have a growing clientele of retail traders who sign up for this service.
US Market: We offer trading of four asset strategy [as above] on the retail trading platform of Collective2.
Strategy Visualization Portal - Trade SES
OptiRisk's TradeSES portal is an interactive [performance reporting and visualisation] system initially developed for internal use. It has been extensively used by our traders and researchers. We are considering offering this to external users. Do reach out to us to find out more about TradeSES platform.
info@optirisk-systems.com
Research AI/ML for Prediction
OptiRisk has made a significant effort in the past year to strengthen its Data Science and Analytics team. The team has developed a few quantitative and machine learning models that predict market movement. We use a combination of quantitative and machine learning models to predict the index or asset's directional movement (UP/DOWN/FLAT). Predictions are combined by an ensemble approach; then processed by our proprietary asset allocation model of (SSD).
Using this approach we have been able to create winning strategies for the Indian, Singapore and US markets. These strategies provide high-return yet low tail-risk and drawdown risk
Sentiment Analysis/Asset Allocation and Trading
Whitepapers on SSRN
OptiRisk and its research partners continue to rank among the top 10% authors by total number of new downloads on SSRN. We continue to invest in research and publish our research results in Handbooks and peer reviewed journals. On the website we have a library of 50+ published whitepapers.
Title: Comparative Analysis of NLP Approaches for Earnings Calls 
Author(s): Christopher Kantos, Dan Joldzic, Gautam Mitra, Kieu Thi Hoang 
You can download the full version of the whitepaper by clicking here
Title: Asset Allocation Strategies: Enhanced by News 
Author(s): Zryan Sadik, Gautam Mitra, Ziwen Tan, Christopher Kantos, Dan Joldzic 
You can download the full version of the whitepaper by clicking here
Please visit our Whitepapers page to see all published papers. Many of these whitepapers are also available for download from SSRN.
CSAF
In 2020, OptiRisk in collaboration with QuantInsti and UNICOM launched a unique online instructor-led training programme - EPAT Specialization: News, Sentiment and Alternative Data EPAT/NSA. The course is designed for finance professionals seeking to build their careers in modern Algorithmic and Quantitative Trading methods.
Subsequently, in 2021 it was enhanced to a certification course: Certificate in Sentiment Analysis and Alternative Data for Finance (CSAF). The faculty comprises algorithmic traders (globally leading), sentiment pundits, quantitative modelling professionals, systematic traders and thought leaders. The CSAF provides unrivalled insight into the realms of data, algorithms and cutting-edge financial technology.
The course lectures and hands-on practical sessions take place over the weekends and span 5 months: sixty (60) lecture hours. The fifth cohort starts on 18 February.
Click here to know more
Publications
OptiRisk Series in Finance
We are on track to publish the Handbook of Alternative Data in Finance Volume I, the first publication in the Taylor Francis/CRC Press and OptiRisk series in Finance; it is due to be released by March 2023.
Call for participation
The Handbook of Alternative Data in Finance Volume II is at an advanced commissioning stage.
Deadlines: for manuscript submission is 30 June and publication is 27 December 2023. If you wish to make a contribution please reach us at
publications@optirisk-systems.com
We have just commissioned the first book in this series: Trading Gold Sentiment-New Directions in Fundamental and Technical Analysis Authors: Professor Steve Hanke and Abe Cofnas. We are soliciting other book proposals in this series.
GARP (Global Association of Risk Professionals) -
GARP has been a long-time partner of OptiRisk, dating back to 1999. With the Financial Risk Manager (FRM®) and (SCR ®); these certifications are highly valued in the BFSI sector.
CAIA Association - Offers charter holder status to fintech professionals who pass their examination. In the domain of Alternative Investment Management a CAIA charter holder is highly regarded. We have a growing mutually beneficial relationship with CAIA and its many global chapters.
FDP Institute - The Financial Data Professional Institute (FDP Institute) is the professional data arm of CAIA. The FDP Institute delivers world-class education to financial professionals in order to satisfy the industry's rapid digital transformation. Some of the CSAF faculty and contributors to our handbook are directors or panel members of The FDP Institute.
QuantInsti - EPAT: Executive Program in Algorithmic Trading. EPAT alumni are spread over 200 nations and territories. For algo traders EPAT is a 'must have qualification'. QuantInsti is our partner in the CSAF training project.
Data Provider Partners
We partner with our data providers and deliver solutions to clients who wish to leverage sentiment data and alternative data in their fintech products and services. The data provider partners are listed here:
Refinitiv
tickData
MarketPsych
Ravenpack
Alexandria
New team members
We're delighted to welcome Ganesh Mani as our new Non-Executive Director. With broad expertise across the financial services domain and keen entrepreneurial drive to embed high-value IP in existing business processes, Ganesh brings tremendous value to OptiRisk. We look forward to leveraging the wealth of knowledge and experience that Ganesh brings to us.
Bala Padmakumar is based in Chennai; he is the CEO of OptiRisk (India). We are pleased to announce that he has joined as a Director of OptiRisk (UK).
OPTIMUM (alpha)
We are excited to announce the launch of our incubation hedge fund:
OPTIMUM (alpha).
Alexey Sivakov Farber of AlfaAlgorithms is our JV partner
It is registered in the British Virgin Island (BVI) by Maples Group
It is administered by Formidium Corp. headquarters in Toronto
Legal advice provided by L&L Partners of Mumbai  
If you wish to find out more please contact our BD team.
PR and Communications

We are looking for some bright minds to handle our digital marketing and SEO activities. If you are interested or you know someone who might be interested feel free to get in touch at jobs@optirisk-systems.com
| | |
| --- | --- |
| Share this | Credits |
| | This newsletter was compiled by Akshita Porwal, Abhay Pandey and Shrey Jhunjhunwala. |
OptiRisk processes and holds data within the "legitimate business interest" terms set out in GDPR legislation. You can be removed at any time by emailing info@optirisk-systems.com and typing 'UNSUBSCRIBE' in the subject line.